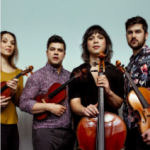 $22 | Free for LU Undergrad Students
Grammy award-winning Attacca Quartet, as described by The Nation,  "lives in the present aesthetically, without rejecting the virtues of the musical past", and it is this dexterity to glide from the music of the 18th through to the 21st century repertoire that places them as one of the most versatile and outstanding ensembles of the moment – a quartet for modern times. Program: Müller, Shostakovich, Ravel and Salerni.  Click here for artist's website.
View our Covid-19 protocols.
Masks must be worn indoors on Lehigh's campus regardless of vaccination status.
GET TICKETS
GET LU Student Tickets
 
With Support From:


www.presserfoundation.org
The Long Family Endowment for Community Outreach in the Arts