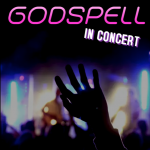 Diamond Theater - going on as scheduled
$12 | LU Students Free | Gen Adm
Sat, 03/12/2022 - 7:30pm
Music by Stephen Schwartz
Book by John-Micheal Tebelak
**THE SHOW MUST GO ON!  TONIGHT'S SHOW WILL GO ON AS SCHEDULED**
This hit musical follows an ensemble growing together in love and faith, paralleling the journey of Jesus Christ and the Apostles. After Lehigh's Spring 2020 production of Godspell was canceled because of the COVID-19 pandemic, we shifted fully to virtual production for the '20-'21 season. Now, as we transition safely back into in-person performance, we honor the energy of this lost production, newly reinvisioned in concert format, as traditional theatre engagement is reborn.
The first major musical theatre offering from three-time Grammy and Academy Award winner, Stephen Schwartz (Wicked, Pippin, Children of Eden) features Jesus' messages of kindness, tolerance, and love vibrantly come to life. Led by the international hit, Day by Day, an eclectic blend of songs ranging in style from pop to vaudeville illustrate the Gospel according to St. Matthew. Jesus recruits a group of followers who help him enact different parables using a wide variety of games, storytelling techniques, and brilliant pieces of comic improvisation, which dissolve hauntingly into the last supper and the crucifixion. LU Department of Theatre website.
You can view the playbill HERE
*Wednesday,  MAR 9 is a Pay-What-You-Wish performance. Tickets for this performance can only be purchased at the box office or over the phone. Contact Ticket Services for details.