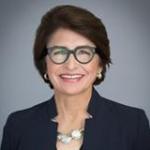 Free and open to the public
The inaugural Iacocca Leadership Speaker is Sylvia Acevedo, a trailblazing entrepreneur, business leader and engineer who started her career working in NASA's Jet Propulsion Laboratory and most recently served as CEO of the Girl Scouts of the USA. A believer in the transformative power of education, Acevedo is passionate about enabling the next generation of leaders to develop the skills and mindset they need to succeed – and make a difference – in an increasingly digital world.
Acevedo will join Richard Verma '90, former U.S. ambassador to India and Lehigh trustee, to share what she's learned as a leader in industries as varied as science, government, big tech and education; how she's working to increase access for women and those of diverse backgrounds; and why she thinks it's important to cultivate a global outlook.
The event is part of Founder's Weekend, an annual campus celebration commemorating Lehigh University founder Asa Packer. It is free and open to the public. Attendees can register in advance through the Founder's Weekend website.