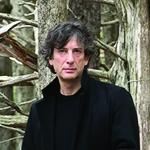 $45 | Free for LU Students
***IMPORTANT ANNOUNCEMENT***
Unfortunately, due to illness, Mr. Gaiman regrettably needs to postpone his Sunday, October 8th presentation at Zoellner Arts Center.
The new date is Sunday, November 12th at 4:00pm.
Current ticketholders should Contact us with your choice of one of the following:
 Keep your current tickets for the new date. Your original tickets will be valid for the new date of November 12th, please do not discard them.
If you cannot attend, we can offer these options:

Convert your tickets to a Gift Certificate for future use
Make a donation to the center
Process a full refund
Please inform us of your choice by Friday, October 13th. We can be reached via inzactix@lehigh.edu or 610-758-2787 ext. 0. The Box Office hours are Tuesday 12pm-6pm and Wednesday-Friday 12pm-5pm.
If you have pre-ordered signed books from Frenchtown Bookshop, they will be available for pickup at the event on November 12th. If you are not able to attend the rescheduled event and have pre-ordered signed books, please contact the book shop directly via email at frenchtownbookshop@gmail.com or call 908-628-9297.
We are sorry for any inconvenience this may have caused. We appreciate your understanding and hope you are able to attend Mr. Gaiman's rescheduled event on Sunday, November 12th. 
NOTE: The original date was sold-out. We are currently processing those ticketholders. We will know if any seats become available for the new date by Thursday, October 12. Please contact the box office on that date for ticket inquiries. 
**********************************************
"I make things up and write them down" is how Neil Gaiman describes his varied art. As one of the most celebrated writers of our time, his popular and critically acclaimed works bend genres while reaching audiences of all ages. Gaiman's groundbreaking Sandman comics were described by Stephen King as having turned graphic novels into "art."  The bestselling author of Neverwhere, Anansi Boys, Smoke and Mirrors, Fragile Things, Trigger Warning: Short Fictions and Disturbances, The Ocean at the End of the Lane, The Sleeper & the Spindle, Hansel and Gretel, Norse Mythology, and The View from the Cheap Seats, is also the author of American Gods, winner of the Hugo, Nebula, Bram Stoker, and Locus awards, and proclaimed one of the 125 most important books of the last 125 years by the New York Public Library. His young adult story, Coraline, won the same awards and was adapted as a musical and an opera. Much of his work has been adapted for visual media. Click HERE for the artist's website. LU Students attend for FREE, click for more info.  "Gaiman is, simply put, a treasure-house of story, and we are lucky to have him." — Stephen King
Click HERE to view digital playbill
GET TICKETS
GET LU Student Tickets
 
Have a QUESTION for Mr. Gaiman?  Be sure to stop by the table in our lobby before the show and write it on a card. We'll have paper and pen ready, so please follow suit with a fabulous question! Neil might personally pick your question to be answered during the program.  
We are pleased to partner with the independent Frenchtown Bookshop for this event. The Bookshop will be on-site selling signed copies of a variety of Mr. Gaiman's books. Books are also available for pre-purchase HERE and may be picked up at the event.