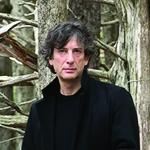 $45 | Free for LU Students
"I make things up and write them down" is how Neil Gaiman describes his varied art. As one of the most celebrated writers of our time, his popular and critically acclaimed works bend genres while reaching audiences of all ages. Gaiman's groundbreaking Sandman comics were described by Stephen King as having turned graphic novels into "art." The bestselling author of Neverwhere, Anansi Boys, Smoke and Mirrors, Fragile Things, Trigger Warning: Short Fictions and Disturbances, The Ocean at the End of the Lane, The Sleeper & the Spindle, Hansel and Gretel, Norse Mythology, and The View from the Cheap Seats, is also the author of American Gods, winner of the Hugo, Nebula, Bram Stoker, and Locus awards, and proclaimed one of the 125 most important books of the last 125 years by the New York Public Library. His young adult story, Coraline, won the same awards and was adapted as a musical and an opera. Much of his work has been adapted for visual media. Click HERE for artist's website. LU Students attend for FREE, click for more info.
Tickets go on sale Thursday, June 8 at Noon.
GET TICKETS
GET LU Student Tickets
"Gaiman is, simply put, a treasure-house of story, and we are lucky to have him." — Stephen King