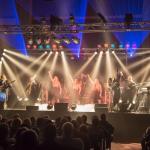 Twelve Twenty-Four, the nation's original and longest running recreation of the Trans-Siberian Orchestra, is celebrating their 15th Anniversary Holiday Tour!   Established in 2002, Twelve Twenty-Four presents a high energy, full-scale, holiday rock orchestra concert featuring the music of the Trans-Siberian Orchestra, as well as their own holiday creations.   Gracing their concert stage this season is an amazing group of thirteen professional and talented performers.  Twelve Twenty-Four includes a six-piece rock band, multi-piece string section, and a variety of vocalists.  This dedicated group of performers work year-round to deliver a theatrical, rock edged, and memorable Christmas concert experience suitable for fans of all ages.
ABOUT THE ARTIST:
Established in 2002, Twelve Twenty-Four performs its Christmas music with a theatrical, rock edge and combines it with a narrated storyline to create a family friendly holiday show suitable for all ages. They are the first and foremost recreation of TSO and are making a name for themselves now with goals that aren't stopping here.
You can also visit them at www.facebook.com/twelvetwentyfour and while there, join their extended family to make them a family holiday tradition, as many others have.
Please visit them on their site for updates and late breaking news at www.twelvetwentyfour.net