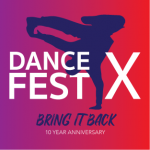 Dear Patrons,
In accordance with Lehigh University's new guidelines regarding campus events, the arts center must cancel this performance. Due to a high volume of calls and our desire to provide timely customer service, please email the box office with questions. Rest assured Ticket Services will address your concerns. Thank you for your patience and understanding during this difficult time. We wish the best to all.   
Ticket Services: 610-758-2787 ext. 0; email inzactix@lehigh.edu  
Featuring Lehigh University's dance teams, DanceFest is an annual event, organized by Lehigh University students, that showcases various styles of dance from around the world. From salsa to traditional Indian folk dances to Hip-Hop, DanceFest provides students with the opportunity to express their personal diverse cultural identities and learn about other cultures. 
BUY TICKETS