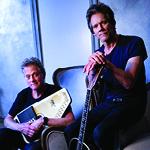 $55 | $45 | Free for LU Students
Bound by blood and a mutual love of American roots music, The Bacon Brothers have spent the past quartercentury in a creative whirl, funneling their shared DNA into a genre-bending sound. They call that sound "Forosoco" — a blend of folk, rock, soul, and country influences, delivered by two songwriters who were born to collaborate — and it's taken the siblings across the world, from shows in Japan to performances at American landmarks like Carnegie Hall and the Grand Ole Opry. "We're still exploring the sound we began making 25 years ago; we've just gotten a lot better at it," says Michael, whose success as an Emmy-winning composer mirrors his brother Kevin's accolades as an A-list Hollywood actor. Click HERE for artist's website. LU Students attend for FREE, click for more info.
Tickets go on sale Thursday, June 8 at Noon.
GET TICKETS
GET LU Student Tickets