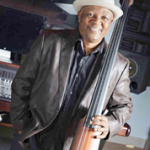 South African artist Kumalo, the original bass player on Paul Simon's Graceland, whose iconic bass lines and bright smile bring authenticity to a show that has passion, energy and pulsing rhythms featuring all of the Grammy-winning hits (Call Me Al, Graceland, Diamonds on the Soles of Her Shoes, etc). Click HERE for artist's website. LU Undergraduates attend for FREE, click for more info.   
Watch Bakithi talk about his music with Grover Wilcox on PBS39 Counter Culture HERE. 
FREE Curtain Warmer | Panel | 6:30pm | Todd Watkins: The LU Professor of Economics moderates a panel discussion about Reflections on Contemporary South Africa. Seniors in Lehigh's Martindale Student Associates Honors Program offer reflections and insights from their ongoing year-long research on current major cultural, social, political, economic and business issues in South Africa. 
GET TICKETS
GET LU Student Tickets
FREE PARKING on levels 2-4 of the attached garage for this event
              
With Support From:  W. Beall Fowler '59  |  Brenda & John McGlade '76 '81G
School Show  FRI JAN 24 | 10am |  Contact Ticket Services to order. Special group pricing available. Click HERE for a school show study guide. 
MUSIC MASTER MENTOR PROGRAM: Deadline to apply January 5, 2020
International celebrity musician Bakithi Kumalo, longtime bass player for Paul Simon, and Will Smith keyboardist and composer will be in residence at Zoellner Arts Center at Lehigh Univesity form Febuaruy 22- April 5, 2020.
ATTENTION: High School and Middle School Students:   Apply to study and perform live alongside Bakithi Kumalo and Will Smith. This FREE mentorship program is open to aspiring musicians ~ drummers, keyboard players, bass players, guitar players, horn, woodwind and vocalists interested in auditioning to form a jazz/pop band under the direction legendary bassist Bakithi Kumalo which will culminate in a performance in Baker Hall.  Student composers and vocalists are invited too. Don't miss this special opportunity! Note: Following the audition process, selected students will be able to participate free of charge.
Students will receive training in technique, rehearsal and performance skills, in addition to composition and songwriting. Leave with life-long relationships and friendships, as well as portfolio materials for future endeavors.  Bakithi and Will are performing live alongside student musicians from across the Lehigh Valley. 
Applications will be accepted from September 1- January 5th. Students will be notified in January. Class will start February 22- April 2, Concert will April 5, 2020.
For application CLICK HERE.
All disciplines are encouraged to apply: strings, percussion, brass (including trumpet, saxophone, etc.) and vocals. Following the audition process, selected attendees will be able to participate free of charge.
NOTE: Application process requires a 2-3 minute YouTube link demonstrating your musicality or a performance excerpt of your choice.
Music Master Class 2020 Dates and Times:
Saturday, February 22, 29; March 7, 14, 21, 28  (10 am – 2 pm)
Make-up class (if needed): Wednesday, April 1 (4-6 pm)
Dress Rehearsal: Thursday, April 2 (4-6 pm)
Concert: Sunday, April 5, at 4 pm in Baker Hall
Biographies
BAKITHI KUMALO   pron:  Bah-gee-tee  Koo-ma-low
Bakithi Kumalo is the legendary bass player for Paul Simon and a Grammy award-winning bassist, composer and vocalist.  His musical career has been characterized by a series of serendipitous events, ranging from his debut gig as a precocious seven-year-old filling in for the bassist in his uncle's band to his enlistment into Paul Simon's group during the recording sessions of the pop star's landmark Graceland album in 1985.
In addition to performing both nationally and internationally, Bakithi Kumalo now presents collegiate, community, and middle to high school music mentorship and arts-education programming.  
Music has the power to transport us to another time and place and Kumalo loves to harness that power with fellow music lovers and passionate musicians alike. Ever since a young age, Bakithi has found great joy and satisfaction by being involved in the creative music process and now he wants to infuse the music and lives of our youth with that same passion and enthusiasm and to offer them tips about how to succeed in the music industry.
WILL SMITH  
Will Smith is a keyboardist/composer who's early exploits included stints with the cult favorite Syndicate of Soul. This was followed by a career seat with the Originators of Ska and Reggae from Jamaica, the world renowned Skatalites who had two Grammy Award nominations for Best Reggae album of the Year. Since the years with the Skatalites, Will started his own group called Mambo Loco a Caribbean Jazz project. Will has appeared with Blood Sweat and Tears, Sam Taylor, and still performs with South African bassist Bakithi Kumalo.