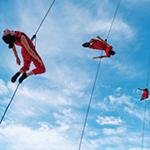 Thu, 04/13/2023 - 11:00am
Thu, 04/13/2023 - 12:30pm
Lehigh University Fairchild-Martindale Library
Free Outdoor Performance - no tickets required
Artistic Director: Melecio Estrella
BANDALOOP honors nature, community, and the human spirit through perspective-bending dance. An innovator in vertical performance, BANDALOOP seamlessly weaves dynamic physicality, intricate choreography and climbing technology to turn the dance floor on its side. As a dance form that relies on state-of-the-science woven nylon climbing ropes, LOOM:FIELD locates BANDALOOP's core technical framework in a textile lineage. As one of the largest polluting industries in the world, fraught with devastating globalized labor and farming practices, the impact of clothing and fashion is often overlooked in our modern consumer lifestyles. The fallout of our textile consumption will be dealt with for generations to come. LOOM:FIELD juxtaposes this large-scale ecological crisis with the timeless cross cultural power of fabric to hold, comfort, adorn and sanctify the human experience.
Event location: Lehigh University Fairchild-Martindale Library 8A Packer Ave., Bethlehem, PA 18015
With Support From
The presentation of BANDALOOP Loom:Field was made possible by the New England Foundation for the Arts' National Dance Project, with lead funding from the Doris Duke Charitable Foundation and The Andrew W. Mellon Foundation.