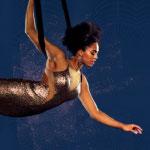 Check-in to a uniquely reimagined hotel that never sleeps! A stopover where lives intersect briefly, just long enough for tales and memories to be forged. Let acrobatics, theatre, dance and live music guide you through this intimate refuge, styled with elegant scenography inspired by the grandest hotels. LU Undergrads attend for FREE. Click HERE for artist's website.  
Curtain Warmer | 3PM | Join us in the lobby for FREE refreshments & FUN at our Opening Night Party! Learn how to juggle and enjoy the antics, the talents of Muhlenberg College Circus Workshop students.             
Performance Sponsor:

With Support From:                      Media Sponsor:
With Support From LU STUDENT AUXILIARY SERVICES
School Show | MON SEP 17 | 10am | Contact Ticket Services for details.  Click HERE to download the student study guide.