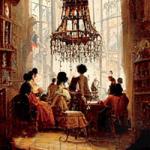 $12 | Free for LU Students
by Liz Duffy Adams
In pre-Revolutionary Paris, a young girl fresh from the convent is promised in marriage to an older nobleman to pay off her father's debts. She flees to the literary salon of her late mother's friends, aristocratic women who conceal radical politics within reinvented folk tales. But which of them is her fairy godmother, and which is the cruel stepmother? Is the duke a Prince Charming or a Beast? And is the maid the humble nobody they treat her as, or the hero of a story none of them knows they are in? Augustine Ripa, director. 
LU Students attend for FREE
, click for more info. 
LU Department of Theatre website
*
Wednesday, 9/28 is a Pay-What-You-Wish performance
. Tickets for this performance can only be purchased at the box office or over the phone. 
Contact Ticket Services
 for details.
PLAYWRIGHT TALKBALK
Join playwright Liz Duffy Adams for a talkback immediately following the performance on Friday, September 30th.
**IN ORDER TO RECEIVE 5x10 CREDIT, STUDENTS MUST STAY FOR/PARTICIPATE IN THE ENTIRE Q&A**