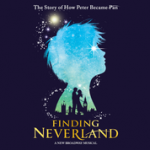 Dear Patrons,
In accordance with Lehigh University's new guidelines regarding campus events, the arts center must cancel this performance. Ticket Services is in the process of setting up automatic refunds to our patrons' original payment method. If you paid cash for your ticket, a check will be issued. Due to a high volume of calls and our desire to provide timely customer service, please email the box office with questions. Rest assured Ticket Services will address your concerns, and Finding Neverland ticket holders will receive refunds. Thank you for your understanding during this difficult time. We wish the best to all.   
Ticket Services:  610-758-2787 ext. 0; email inzactix@lehigh.edu  
Based on the Academy Award-winning film of the same name, Finding Neverland is the Broadway musical that tells the fascinating story of how Peter became Pan. Take a flight of fancy with author J.M. Barrie and meet the inspirations for his fabulous and fantastical characters. This magical production is by the same team behind Shakespeare in Love, Chicago and Pippin. Click HERE for artist's website. LU Undergraduates attend for FREE, click for more info.   
GET TICKETS
GET LU Student Tickets
THANK YOU TO OUR SPONSORS FOR THEIR UNDERSTANDING DURING THIS TIME:
Prelude Sponsor:                     Performance Sponsor:                  Media Sponsor:
CANCELLED - FREE Curtain Warmer | Lecture| 6pm | Josh Berk, executive director of the Bethlehem Area Public Library, presents Comparison & Contrast Between Two U.K. Literary Giants -- J.K. Rowling and J.M. Barrie. The writer of several children's books, he talks about the two British authors who created some of the most iconic characters of all time.