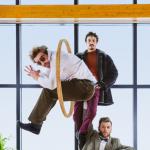 $36 |$30 | $25 | Free for Students
Comprised of world-class cirque artists, this Canadian troupe crafts contemporary circus shows with an uncanny ability to have fun and move audiences. On stage, six envelopes contain six mysterious invitations for six strangers. The guests have arrived, but one is missing. What to do while we wait?  SIX explores the sweet madness of waiting, the intricate beauty in a correspondence, unexpected encounters, joyful laughter, and breathtaking feats of acrobatics set to great music from Dr. John, The Commodores, indie rock and more! Click HERE for artist's website. LU students attend for FREE, click for details. View the event playbill.
View our Covid-19 protocols.
Masks must be worn indoors on Lehigh's campus regardless of vaccination status. 
GET TICKETS
GET LU Student Tickets
SCHOOL SHOW: Mon FEB 14 | 10am | Email our Education Coordinator for more details. 
View the Flip Fabrique Study Guide.

With Support From:
FLIP Fabrique wishes to thank the Canada Council for the Arts, the Conseil des arts et des lettres du Quebec and the City of Quebec for their financial support.