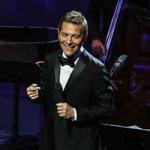 $45 | $35 | Free for LU Students
Legendary performer Michael Feinstein salutes and celebrates the great Judy Garland in the year that honors her 100th Birthday! Executive produced by Liza Minnelli, audiences are invited to join a nostalgic and spectacular musical journey of Garland's illustrious career. Filled with special surprise moments, Feinstein and audiences will come together in celebrating Garland's unparalleled talent and charisma. No one could break or lift your heart like Judy Garland! Feinstein will lead you on a historical journey through Garland's amazing life, telling stories that he has learned from Liza Minnelli and other close friends. Audiences will be treated to recently discovered, previously unheard musical arrangements, as well as gain rare insight into the enduring Garland mystique. Click HERE for artist's website. LU Students attend for FREE, click for more info.
Click here to view the digital playbill.
Cornerstone Event: Performance in Honor of the Baker Family Legacy
With Support From: