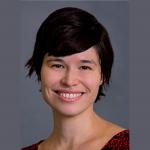 Free - no tickets required
Leslie Geddes is Assistant Professor of Art History in the Newcomb Art Department at Tulane University in New Orleans. She received a B.A. from Columbia University and a Ph.D. from Princeton University in 2014. An art historian, her research focuses on how early modern artists and engineers studied and depicted the natural landscape, specifically attending to the use of drawing in the production of knowledge. Her book, Watermarks: Leonardo da Vinci and the Mastery of Nature, published by Princeton University Press in 2020, analyzes the subject of water in art in conjunction with the practical undertakings of hydraulic engineering. 
Recent press includes accolades as: A Choice 2021 Outstanding Academic Title in Fine Arts. Last academic year she was the Robert Lehman Fellow at the Villa I Tatti, Harvard University's Center for Italian Renaissance Studies for her new book project, Weapons of Atlas: The Art and Science of Early Modern Cartography (1580–1650). Starting next month she will be a Fellow at the Huntington Library & Museum in Pasadena, and later this summer hold residencies at the American Academy in Rome and the Newberry Library in Chicago.
Presented by the Lehigh Humanities Lab, the Department of Theatre, the Department of Mechanical Engineering & Mechanics and Leonardo da Vinci: Artist & Engineer Class
"Compelling. . . . an exciting addition to the new field of the environmental humanities."—Choice
"One cannot help admiring how, through her own fertile processes of thought and analogy, Geddes mirrors the astonishing liveliness of Leonardo's creative imagination." - Francis Ames-Lewis, Burlington Magazine
Leslie Geddes is the author of Watermarks, Princeton University Press
Code GED30 for 30% off