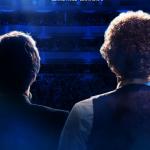 $59 | $49 | $39 | Free for LU Students
A huge success in London's West End, this critically acclaimed concert-style theatre show chronicles how two young boys from Queens, NY, went on to become the world's most successful music duo of all time. It tells the story from their humble beginnings as Tom & Jerry to their incredible success as one of the best-selling music groups of the 60s to their dramatic split in 1970. It culminates with the famous "The Concert in Central Park" reunion in 1981 with more than half a million fans in attendance. Using state-of-the-art video projection and lighting, with actors portraying Paul Simon and Art Garfunkel, this immersive celebration of timeless music and nostalgic images features a full live band playing all the hits — Mrs. Robinson, Bridge Over Troubled Water, Homeward Bound, Scarborough Fair, The Sound of Silence and many more. Click HERE for artist's website.  LU students attend for FREE, click for more info. View the event playbill.
View our Covid-19 protocols.
Masks must be worn indoors on Lehigh's campus regardless of vaccination status. 
GET TICKETS
GET LU Student Tickets