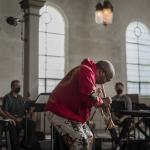 $38 | $34 | $30 | Free LU Undergrad Students
ABSENCE

Two-time Oscar® nominee, 2018 USA Fellow, and five-time GRAMMY®-winning trumpeter & composer Terence Blanchard celebrates the brilliance of Wayne Shorter's legacy and the inspiration he has given Blanchard, influencing his ever-expanding amalgam of music and storytelling. For this monumental task, Blanchard unites his internationally acclaimed band The E-Collective, featuring young musical pioneers Charles Altura on guitar, Fabian Almazan on piano and synthesizers, Oscar Seaton on drums, and David "DJ" Ginyard on bass, with the double-GRAMMY®-winning Turtle Island Quartet. Click here to learn more about the Absence album release. Click here for artist's website. View the playbill.
View our Covid-19 protocols.
Masks must be worn indoors on Lehigh's campus regardless of vaccination status. 
GET TICKETS 
GET LU Student Tickets