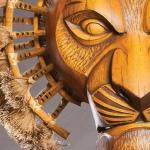 Lehigh University Student Access and Success Presents:
Acclaimed Broadway Star Alton Fitzgerald White shares his secret to fulfillment and joy in everyday life with the FREE ZOOM presentation, My Pride: Mastering Life's Daily Performance. 
Click HERE to Register | Q&A follows talk
Drawing on his own life and career and the rich lore of The Lion King, Alton Fitzgerald White, Broadway's longest running "King," delivers his message of service — taking responsibility for and deriving happiness from commonplace achievements — as a philosophy that anyone can get through each day with satisfaction, pride and a sense of accomplishment
This event is part of Student Access and Success First Generation Celebration Week. Supported by the Office of Student Engagement and Zoellner Arts Center. 
After completing a record-breaking 4,308 performances as King Mufasa in Disney's The Lion King on Broadway, Alton has now added author and in-demand keynote speaker to his growing list of titles. His book, My Pride: Mastering The Challenge Of Daily Performance, an inspirational biography filled with secrets to fulfillment and joy in work and life was published by Disney Editions and has been nominated for several major national book awards. Other Broadway starring roles include Mister in The Color Purple, Coalhouse Walker Jr. in Ragtime, Ken in Smokey Joe's Cafe, John in Miss Saigon and The Hawker in The Who's Tommy. He made his West End debut as Ken in Smokey Joe's Cafe in London. Alton's popular TEDx Talk-Redefining Service To Dream The Impossible Dream can be found here.