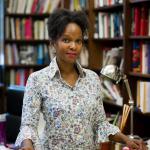 Williams Hall: Roemmele Global Commons
Free - no tickets required
Perry is a scholar of law, literary and cultural studies, and an author of creative nonfiction. She earned her Ph.D. in American Studies from Harvard University, a J.D. from Harvard Law School, an L.L.M. from Georgetown University Law Center, and a B.A. from Yale College in Literature and American Studies. Her writing and scholarship primarily focus on the history of Black thought, art, and imagination crafted in response to, and resistance against, the social, political, and legal realities of domination in the West. She seeks to understand the retrenchment processes after moments of social progress and how freedom dreams are sustainable nevertheless. 
Presented by Lehigh University's Creative Writing Program, Zoellner Arts Center and an Anonymous Donor 
With Support From: Lehigh University Women, Gender and Sexuality Studies, Africana Studies, and the Center for Gender Equity 
"Any views, findings, conclusions or recommendations expressed in this program do not necessarily represent those of the National Endowment for the Humanities."