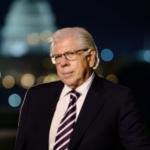 Baker Hall | Free; Open to the Public
Topic: Comparison between the Nixon and Trump presidencies and how each treated journalists during their tenure. 
The Pulitzer Prize-winning journalist joins a long line of influential scholars to speak at this annual event. Click here for more information.
The Rocco J. Tresolini Lectureship in Law was established in 1978, in memory of one of Lehigh's most distinguished teachers and scholars, Rocco Tresolini (1920-1967), who served as professor and chair of the department of government. Over the years, the Tresolini Lecture Committee has been fortunate to host a number of extraordinary speakers who have shared their perspectives on some of the most significant issues of our time.