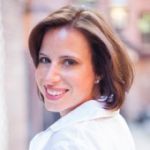 | Lower Art Gallery | Free Event; Open to Public
Lori Goldstein is a journalist, editor, and author of the acclaimed, VOYA-starred young adult contemporary fantasy series Becoming Jinn and Circle of Jinn, modern spins on the traditional tale of wish-granting genies.  Her new novel, Screen Queens, chronicles the challenges of three teen girls who attend a startup incubator in Silicon Valley and learn what it means to compete in the male-dominated world of tech.  Lori Goldstein is a graduate of Lehigh University.
This is a 
for Lehigh students. 
Supported by the Ann Neitzel Endowment Fund for Poetry and Creative Writing
The Notations Series is presented by the Lehigh University Creative Writing Program, Visiting Lecturers Committee and Zoellner Arts Center with support from an Anonymous Donor.
Click to Join Lehigh's Online Book Club