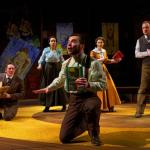 By Christopher Parks
Presented by the Children's Theatre of Charlotte & The Experiential Theater Company
The audience is in the middle of the action in this fun, experiential show as Dorothy and her friends battle the Wicked Witch to find the brains, the heart and the courage they never knew they had. Inspired by L. Frank Baum's original stories, this clever adaptation puts the audience front and center. Find out why there's no place like home! Click HERE for artist's website.  Click HERE to learn about FUN geocaching events with our partner the Wildlands Conservancy!
FREE Lobby Show | 3pm | The Wildlands Conservancy: Furry, Slippery, and scaled, Oh MY! Before you head down the yellow brick road in Baker Hall, visit with the Wildlands Conservancy and take an experiential journey in our lobby discovering mammals, reptiles and amphibians. Exploring what lies in the Lehigh Valley's native meadows, streams, ponds and forests will get you excited to take a walk in your own land of Oz. 
Performance Sponsor: BRENDA AND JOHN MCGLADE '76 '81G