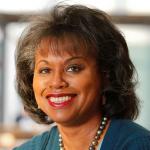 | Baker Hall | Free; Open to the Public
FROM SOCIAL MOVEMENT TO SOCIAL IMPACT: PUTTING AN END TO SEXUAL HARASSMENT IN THE WORKPLACE
Twenty-six years before the #metoo movement, Hill sparked a national conversation about sexual harassment in the workplace when she testified at the Supreme Court confirmation hearings for Clarence Thomas in 1991. Her bravery empowered thousands of women to bring forth their own sexual harassment lawsuits and helped revolutionize the treatment of women in the workplace. Now, with remarkable insight and candor, she reflects on events before, during, and after those hearings. Click HERE for more information concerning this talk. 
 
NOTE:  The talk is open to the public, free of charge.  Doors to Baker Hall will open at 6:45pm, we recommend early arrival.  Tickets are not required for entry; however, tickets are available for a limited number of reserved seats .
GET TICKETS FOR RESERVED SECTION  
Sponsored by Visiting Lecture Committee, Ethics Committee, Office of Multicultural Affairs, Center for Gender Equity, Gender Violence Education and Support, Africana Studies, The Dialogue Center, Human Resources, and Women, Gender, and Sexuality Studies.