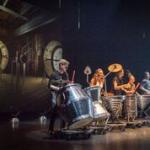 Take industrial scrap, revitalize it with the arts of welding, sculpture, and choreography, merge with five extraordinary and athletic percussionists and create beautiful music. The result? A fast-paced, other-worldly performance that transforms "scrap" into "art," and "arts" into "music." Click HERE for artist's website. LU Undergraduates attend for FREE, click for more info. 
GET TICKETS
GET LU Student Tickets
CURTAIN WARMER | FREE Lecture | 6:30pm | Dick Boak | Lower Art Gallery: Former Director of Artist Relations at Martin Guitar, Boak is a renaissance man of art and music who is also a scrap artist. He is a Pennsylvania-based illustrator, artist, writer, woodworker and musician whose handmade works of art feature repurposed materials. During his 41-year career at Martin, he helped the company think about sustainability and the environment, specifically about wood and how they make instruments.
This Curtain Warmer & Performance is a 
for Lehigh students. 
Performance Sponsor:

Additional Support from:

W. Beall Fowler '59
Residency supported in part by Anne R. Kline '81 Endowed Fund for Creatively Integrated Programming
The Dexter F. & Dorothy H. Baker Foundation
School Show
THU OCT 17 & FRI OCT 18 | 10am |  Contact Ticket Services to order. Special group pricing available. Click HERE to download study guide.